inflatable hood
trailer – "Shut Up & Like It!"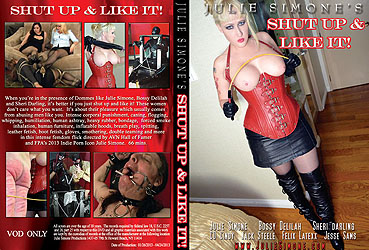 When you're in the presence of Dommes like Julie Simone, Bossy Delilah and Sheri Darling, it's better if you just shut up and like it! These women don't care what you want. It's about their pleasure which usually comes from abusing men like you. Intense corporal punishment, caning, flogging, whipping, humiliation, human ashtray, heavy rubber, bondage, forced smoke inhalation, human furniture, inflatable hoods, breath play, spitting, leather fetish, boot fetish, gloves, smothering, double teaming and more in this intense femdom flick directed by AVN Hall of Famer and FPA's 2013 Indie Porn Icon Julie Simone.
Download the movie here : http://clips4sale.com/9861/9109366
Stream/VOD/Pay Per Minute here : Hotmovies
Events Calendar
Events are coming soon, stay tuned!
Julie Recommends